Run Wild Missoula
Missoula Half Marathon Walking Class
March 5 - June 26, 2022
Missoula Half Marathon Walking Class
If you're looking for a low impact way to train for and successfully complete the Missoula Half Marathon on June 26th, 2022, and also develop a network of fun, knowledgeable, encouraging folks of all shapes, sizes, and ages, then this is the class for you! Join the Missoula Half Marathon Walking Training Class starting on Saturday, March 5th, 2022. Experienced walker and runner Elly Foster will be leading the class again this year!
Registration:
Registration opens January 20th. Class starts on Saturday, March 5th, 2022.
** Run Wild Missoula membership is required, sign up HERE** 
The class is $40.00. All registered participants receive a custom training shirt, discounted race entry to two RWM races as part of training, and great community!

Logistics:
This class meets on Wednesdays and Saturdays for training runs. Participants will also receive presentations from community specialists on topics such as gear and nutrition. Please note that registering for this class does not include registration for the Missoula Half Marathon. 
If you're interested in a discounted race entry or class entry, consider running for Youth Homes.
Questions? Please contact Sally 

| | |
| --- | --- |
| Date: | March 5 - June 26, 2022 |
| Start Time: | Wed @ 6:00 PM Sat @ 8:00 AM |
| Start Location: | Varies |
Meet Your Leader!
Class Leader: Elly Foster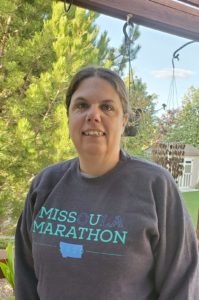 Elly has been a participant in the Walking Class since 2017. A few years ago, she was asked to take the reins on leading the Walking Class. She has completed the Missoula Half Marathon three times and will complete her fourth in June 2022. In her free time, she enjoys fishing, being active and bowling. This will be her second year leading the class!
As outlined in the waiver & acknowledgement, entry fees are non-transferable and non-deferrable.  Please note you still need to register for the race!
No dogs please, with the exception of ADA Service Animals.  Service animals must be on non-retractable, 6 foot or less leash.
Presented by: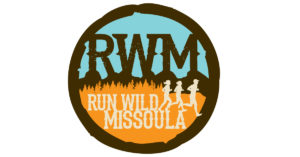 Run Wild Missoula acknowledges that we are in the homelands of the Salish and Kalispel people. Today, we offer our respect for their history and culture, for their ancient and continuing presence in this landscape, and for the path they have shown us in caring for this place for the generations to come.
"I joined RWM only a year ago when a girlfriend encouraged me to join her in the Beginning Runner Class that RWM hosts. The running community has been a godsend for me and has helped me though a really tough time personally. Thanks to my friend that got me started and thanks to RWM. I love my running buddies --- all new friends and I love the change that has taken place in my life."
– Ruth B.