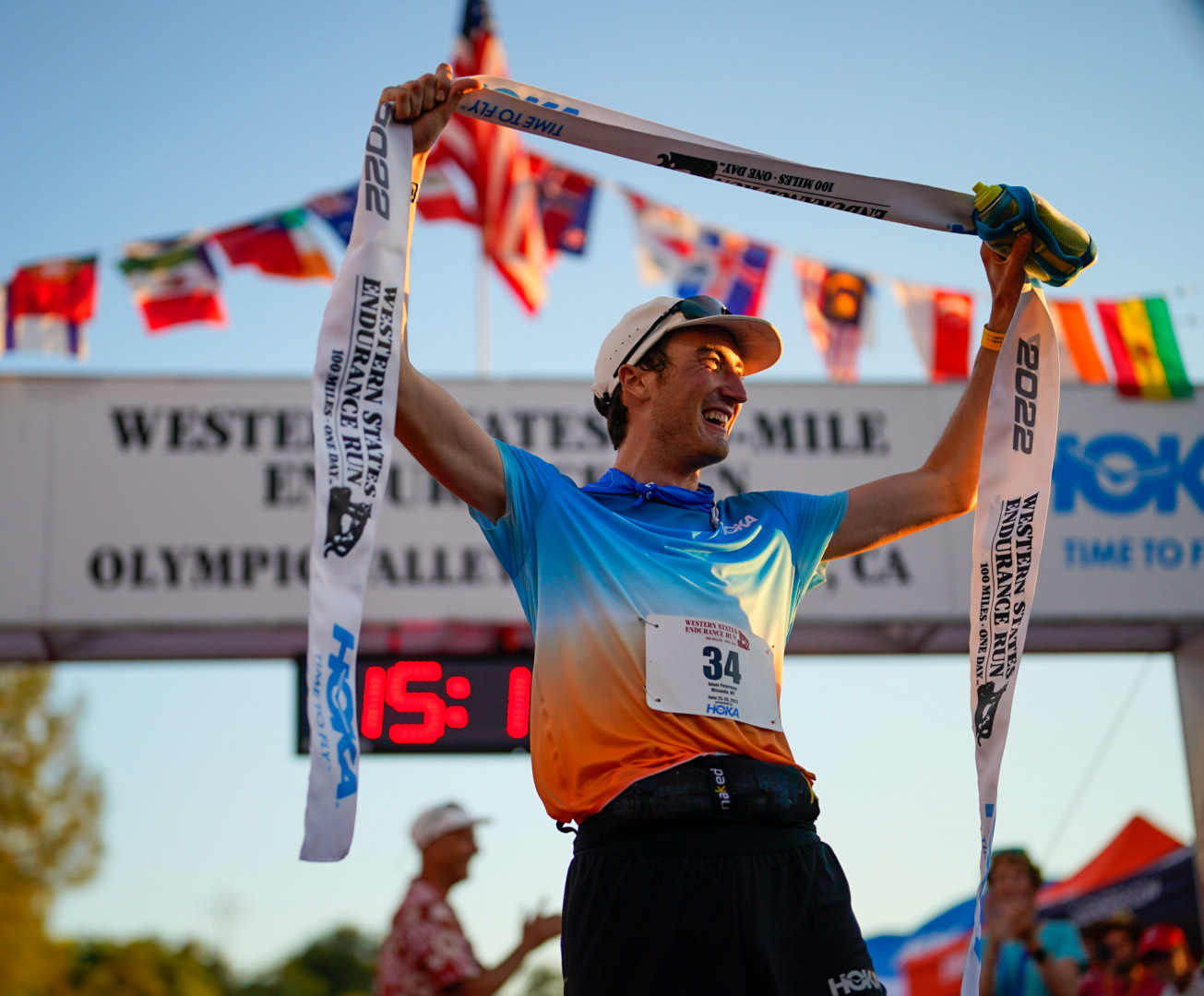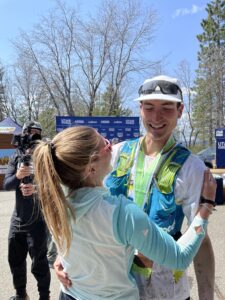 Helloooo Adam Peterman! You may recognize Adam's name from his recent win at Western States but there is a lot more to Adam. He is a proud owner of a chug (read on to discover what that is), loathes pairing his socks, has new uncle status, and he enjoys fishing on his off days. He also happens to be a profoundly successful, yet wildly humble ultra trail runner, with his latest victory in June at Western States 100 Miler. 
What makes Adam's rise in the world of ultrarunning so easy to cheer for? He is a Missoula-native, relatable, goofy and maybe just as nice as his mom and dad. Even those who do not follow the world of running, still found themselves glued to the coverage of Western States as the 26-year old rolled through the finish 15 hours later with a crew of familiar Missoula faces. The win garnered him a couple thousand instagram followers and a bonus from his sponsor Hoka.
It is easy to assume with Adams' success in recent years that running came easy to him, but that was not the case. He ran his first 5K in fourth grade when his mom, Lisa, cut out a training guide from a Runner's World magazine. Adam kept running in the years that followed, but he never felt as though it was something he was good at. He pursued soccer and gymnastics hoping to find something that stuck. As the years rolled on and after a bit of growth, running started to feel more natural to Adam.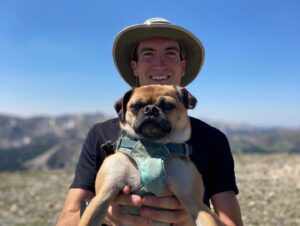 His high school running progressed enough to be a Montana standout in cross country and track. His high school career ended with a second-place individual finish at the State AA cross country meet running for Hellgate under mentors Anders Brooker and Mike Foote. 
Adam went on to run both cross country and track at University of Colorado Buffaloes in Boulder while he studied coprolites (fossilized animal feces). His collegiate career didn't shine quite like high school. Adam was hampered by nagging injuries and race day anxiety. He felt his potential was never met.
Trail running specifically was not something that Adam did avidly during his college years. It was not until he moved back home to Missoula after college that he started dipping his toes into more trail running endeavors. He became more serious when he was training for the Moab Trail Marathon in 2019.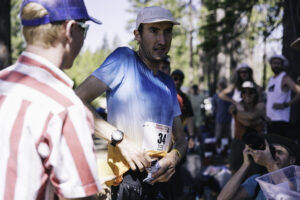 During his training runs on Mount Sentinel, he was snatching up the fastest segments on Strava. It was at this time that Adam thought he just might be kind of, sort of, a little bit, a lot maybe, good at this sport. 
Shortly after, Adam took first place and set a new course record at the Moab Trail Marathon. What followed was a cascade of race wins at JFK 50 and Speedgoat 50K and course records at Chuckanut 50K and Canyonlands 100K that awarded Adam the coveted Golden Ticket entry to either Western States 100 (WSER) or UTMB Mont-Blanc. After calculated deliberation, Adam decided to toe the line of the world's oldest 100 miler that runs from Olympic Valley to Auburn, California.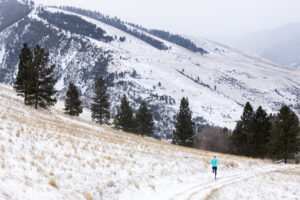 After 15 hours of heat, high calorie drinks, and copious amounts of Mott's fruit snacks, Adam tore through the winners tape. When asked to describe his experience at WSER in three words Adam earnestly replied: "It. Was. Surreal." 
What is almost if not more impressive than taking first place in his first 100 miler, is the fact that his nipples did not chafe at all with no application of anti-chafe ointment. The pride in Missoula was palpable and several of Adam's friends and family welcomed him home with homemade signs. 
We cannot talk about Adam without mentioning the real star in his family, his chug named Poppy. What is a chug? A chug is a chihuahua, shih tzu, and pug mix (yes that is a real thing!) It takes the form of an extraordinarily athletic looking pug whose affection is difficult to gain. 
Poppy is no regular companion dog. Along with Adam and Poppy's mom (also Hoka sponsored athlete) Erin Clark, the tenacious pup has run places where no chihuahuas, shih tzus, or pugs have ever been. She scales talus fields, climbs mountains, and even runs a sub 1:20 half marathon. Why no one has made a documentary film about Poppy remains a total mystery. 
Missoula's vast running community and fans alike exude excitement for Adam chasing and accomplishing big dreams. Adam hopes to chase his title at Western States in the future and tackle other races like the Trail Running Championships in Thailand.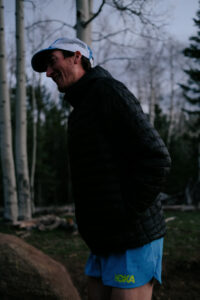 When Adam is not running, he can be found helping out with Runner's Edge Events, fishing, biking, skiing, or generally adventuring with Erin and Poppy of course!


Rapid Fire:
You're a proud Chug fan but are you more of a chihuahua, shih tzu or pug fan?
What's harder, steeplechase or a 100 miler?
Who's nicer, Larry or Lisa?
What are you looking forward to most being a new uncle?

Adam: Meeting him this summer!

** RWM staff also tried to convince Adam to change Sally's baby's diaper and he politely declined**
 

Strangest spot you have chafed?

Adam: Collar bone from my pack… kind of looked like a hickey from hell 
Who would win an arm wrestling contest, you or Erin?
 

What is the highest elevation poop you have taken?

Adam: mmmm 14,000 ft.. that was base camp for a trip in Mexico so it has to be true!
What is the strangest piece of advice that Mike Foote has given you?

Adam: To not run WSER! In the winter he advised me to ease into the 100 mile distance because he did not want it to disrupt my running streak. After I won, he texted me that he was glad that I didn't take his advice! 
In the time that you have known Anders, how many times have you seen him eat a vegetable

Adam: mmmm I think I've seen him eat more chicken gizzards than vegetables. I don't think I've ever seen him eat vegetables. 
 In your new uncle status, are you more of an Uncle Joey or an Uncle Jesse?

Adam: Who? Like Jesse Carnes…?

 

What is your least favorite chore around the house?

Adam: Pairing my socks.. I hate pairing my socks.. I have so many socks! 
 What is your guilty pleasure food?

Adam: I drink a lot of soda … but sometimes I really throw down on those Pilsbury cinnamon rolls. I eat the whole thing. 
Do you watch TV?

Adam: I youtube sometimes…running or fly fishing videos
What is your favorite Run Wild Missoula race?

Adam:The Double Dip (he's also the course record holder!)