Run Wild Missoula
Montana Trail Crew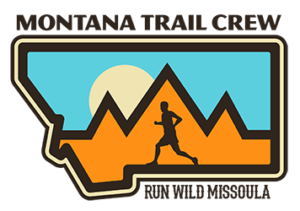 As the sport of trail running grows, Run Wild Missoula hopes that Montana Trail Crew will continue to serve as a vehicle through which we can act as stewards of our local trails and a means to bind our state's geographically sprawling trail running community. Montana Trail Crew operates a website that is the premier source of information and stories about Montana trail running people, places, and events; it organizes public lands stewardship projects, such as trial work days and hosts the annual Mountain Running Film Festival each fall in Missoula to build cohesion among Montana's geographically sprawling trail running community.
Founded in August 2013 by a group of local trail runners, Montana Trail Crew became a part of Run Wild Missoula in January 2017. As an educational and conservation-based organization for mountain and trail runners, Montana Trail Crew is devoted to strengthening the Montana trail running community and advocating for the open space and wild lands where we run. As one of Montana Trail Crew's founders explained in 2013, "On the surface, we understand—as any trail runner does—that we need open spaces and healthy wild lands to do what we do. We need to safeguard access to the trails that we use every day."
---
Trail Stewardship Opportunities
Need trail stewardship hours to qualify for a race? Want to give back to our local trails? Want to learn how trails are maintained and why they're built the way they are? Montana Trail Crew recommends getting out with these other fantastic, local stewardship organizations to improve our trails. They all provide the tools and training, and many provide great food while you work too!
MTB Missoula: Tons of one day opportunities to work on trails right here in Missoula alongside our mountain biking friends. Keep an eye on our Facebook and Instagram feeds for these frequent opportunities.
Selway Bitterroot Frank Church Foundation: Multi-day, free volunteer trail crew trips in the Selway Bitterroot Wilderness and Frank Church River of No Return Wilderness areas. More info here. 
Wild Montana: Multi-day, free volunteer trail crew trips around the state, plus a handful of one day trail stewardship opportunities June through September in the Bitterroot Valley. Email Mike Young for Bitterroot opportunities or check out the website.  
Great Burn Conservation Alliance: Multi-day, free volunteer trail crew trips in The Great Burn. You could also become a Heart Lake Ambassador and educate people about mountain goats and Leave No Trail principles. More info here. 
Bob Marshall Wilderness Foundation: Multi and single-day, free trail stewardship trips in the Bob Marshall Wilderness. More info here. 
---
Becoming a Wild Runner:
The Practice & Payouts of Self-Supported Trail Running
Join this experienced panel for an evening exploring the value of self-supported runs as a way to deeply experience landscape, seek solitude, pursue individual goals and connect with other runners in a non-competitive way. We'll dive into preparing to succeed at readying yourself for personal, gratifying experiences on the trail that you self-create and see through.
Monday, May 8 6:30-8:00 pm | Free & open to all
Zootown Arts Commutniry Center [ZACC]| 216 W Main
Did you miss it? Watch the replay here! 
---
Our biggest fundraising effort. –> Save the date! Thursday, November 9, 2023 at the Wilma, Downtown Missoula.
---
Other Montana Trail Crew Resources:
"I was thinking about moving away last summer but the running club in the town where I was going to move doesn't begin to compare-and that was a big factor in my decision to stay here."
– Kelsi C.