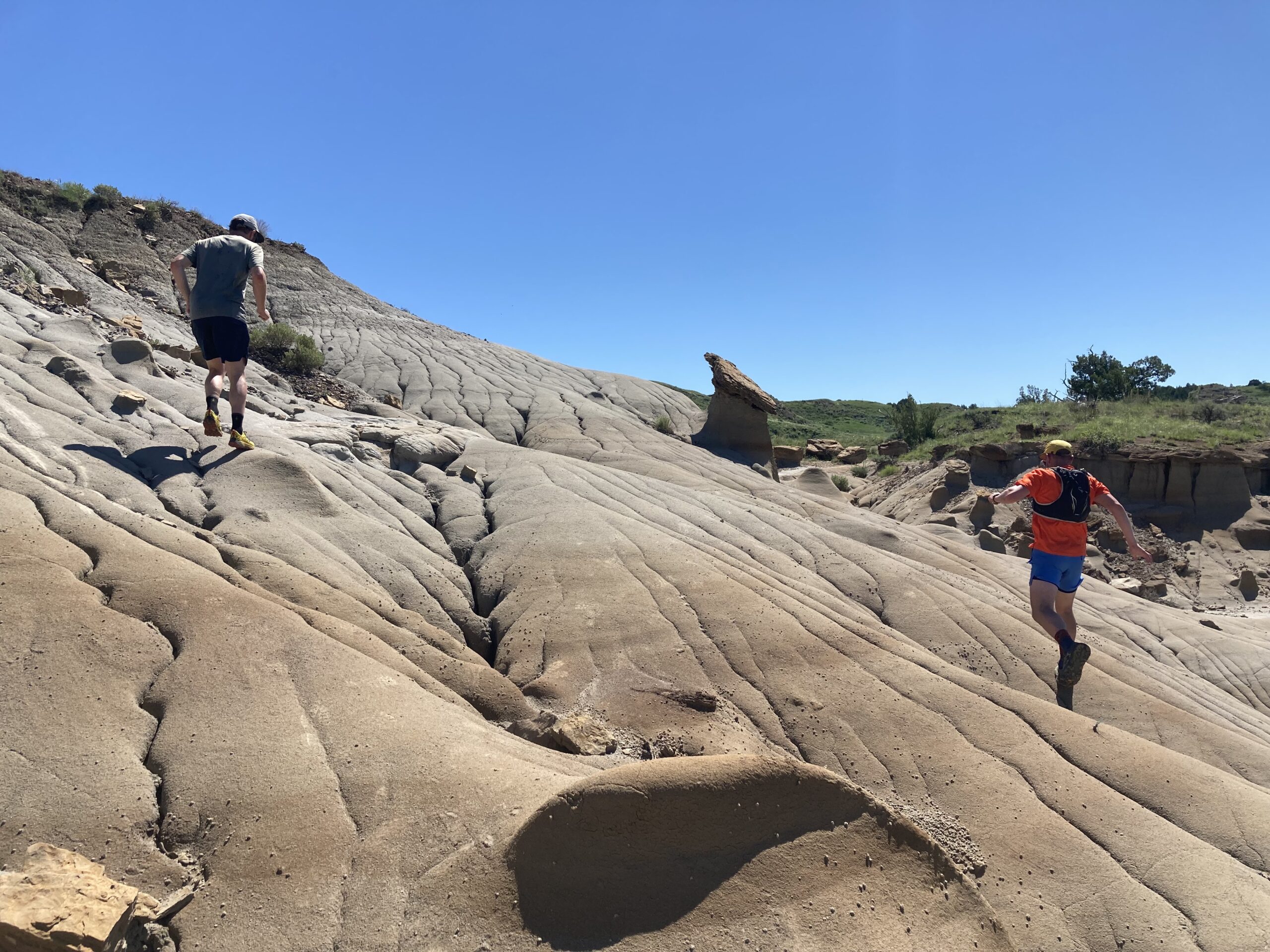 In far southeastern Montana, prairies shift into badlands, and there is a little known and our largest state park. Makoshika State Park is named for the Lakota phrase meaning 'bad land' or 'bad earth'. From the park's roads, Makoshika's badlands features look highly susceptible to disappearing within our lifetime. They droop, they crenellate, and they totter. There are hoodoos and wrinkled, bare mounds of earth. These water-weathered badlands features look downright crumbly. It's a decidedly different Montana landscape, but just as jaw dropping as our western Montana mountains and valleys.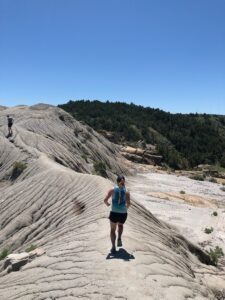 Last June our party of five runners set out to experience a trail on Makoshika's Gunner's Ridge in the cool morning temps. An hour later we laughed in delight and surprise as we the trail precipitously headed straight up to the top of one of the feature's ridge lines and we ran along the eroded spine, without the soil yielding under our shoes — at all. The surprise turned our initially delicate, tentative steps into a leaping dance.

Running across the eons, and epochs, and extinctions is a tangible fact at Makoshika. At the visitor center you can learn about the dinosaurs previously found here. As you run across ridges and dry stream bottoms, you quickly come to expect to stumble upon a giant fossilized femur at any moment. As you gain elevation from the parking lot and head toward the ridge top on the Gunner's trail you can keep an eye out for the dark grey band of rock which signifies that you have passed from the time of dinosaurs and entered the the epoch when mammals would become the predominant large land mammals. The dark line is a remnant of the fallout from a meteor that crashed to earth 65 million years ago and caused the extinction of dinosaurs.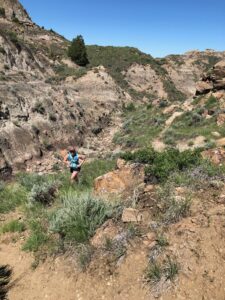 In June, this geologic landscape is vividly green, and when we weren't looking for fossilized bones on the trailside our eyes jumped from one blooming cactus to another and then to spiky clusters of yucca also in bloom. The cactus flowers were papery and also fragile looking in shades of pale yellow and pink. We shot photos of cactus flowers in the foreground and the ridge trail twisting ahead of us through green and then brown and green again. The visitor center had taught us that there were three species of mastodon present in North America eons ago and I alternated between imagining those behemoths and dinosaurs dwelling here. It's good to keep the imaging somewhat in check, lest you carelessly kick one of the cactus on the trail edge.
The cactus didn't prove to thwart our run in any considerable way, but we did stop running for a while when we lost the trail, and ended up peering over a nearby ridge into what looked like a never before seen lagoon. The true challenge that awaited us was the heat. By late morning, the brilliant blue skies were notable mainly for the lack of protection they provided us from the sun. Running or hiking here in any other summer month rattlesnakes would be a concern. Just coming out of a long, damp, chilly spring, we were not yet acclimated to these warmer temps and we stopped to rest under an overhanding ledge of sandstone that afforded a welcome sliver of shade.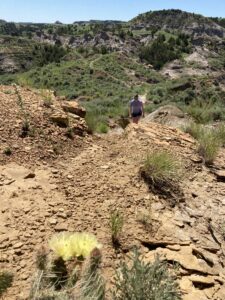 Sitting in the shade and reflecting on the terrain covered, all were struck by the surprises encountered. Running on narrow 18 inch ridge tops of beautiful solid but fragile looking rock which afforded spectacular views of the state park and the badlands beyond, the flowy and well connected trail, the surprise lake which we later learned was caused by a butte's slump, and the quiet beauty of an area which none truly expected was exquisite. It caused us to reflect on the biases we held on to about where to expect good trail running to exist.

Makoshika is well worth a visit to experience a new type of Montana trail running. We ran a little under ten miles across the park crossing stream bottoms, climbing buttes, and dancing across ridges. When dry, the soils and geology will hold up well to runner's feet, but when wet would be sloppy and potentially damaging to trails and geologic features. As mentioned above, it can also be HOT so make sure to carry plenty of water, electrolytes, and snacks. We began and ended our run at the visitor's center which offers bathroom, water fountains, and a few informative exhibits. Our loop was 85% single track and included just over a mile of road. And that heat, well, it led us to seek out a splash pad in the neighborhood adjacent to the park.
We ran and spun through the spray in our running clothes, laughing and playing in a way that after a few minutes had the local kids spraying additional water in our direction. We left soaked and happy. It was a youthful finish to a trail experience that had us thinking about ancient time and the tenacity of the creatures that live in Makoshika State Park today.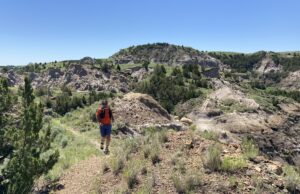 Makoshika State Park is in Glendive, Montana. It's a seven hour trip east from Missoula on Interstate 90. The park is free to Montanans to visit, has upwards of 20 miles of trail to explore and includes two campgrounds if you'd like to stay overnight. Map included here. On a full moon, I bet the trails are lit well enough for a star studded run. If the splash pad nearby doesn't quench your lust for water after the arid park, we recommend a stop as you head west in Miles City, where there is a delightful public swimming hole right in town and a decent ice cream parlor.
-Zach Angstead and Erin Clark are Run Wild Missoula members and avid seekers of wild and unique trails.