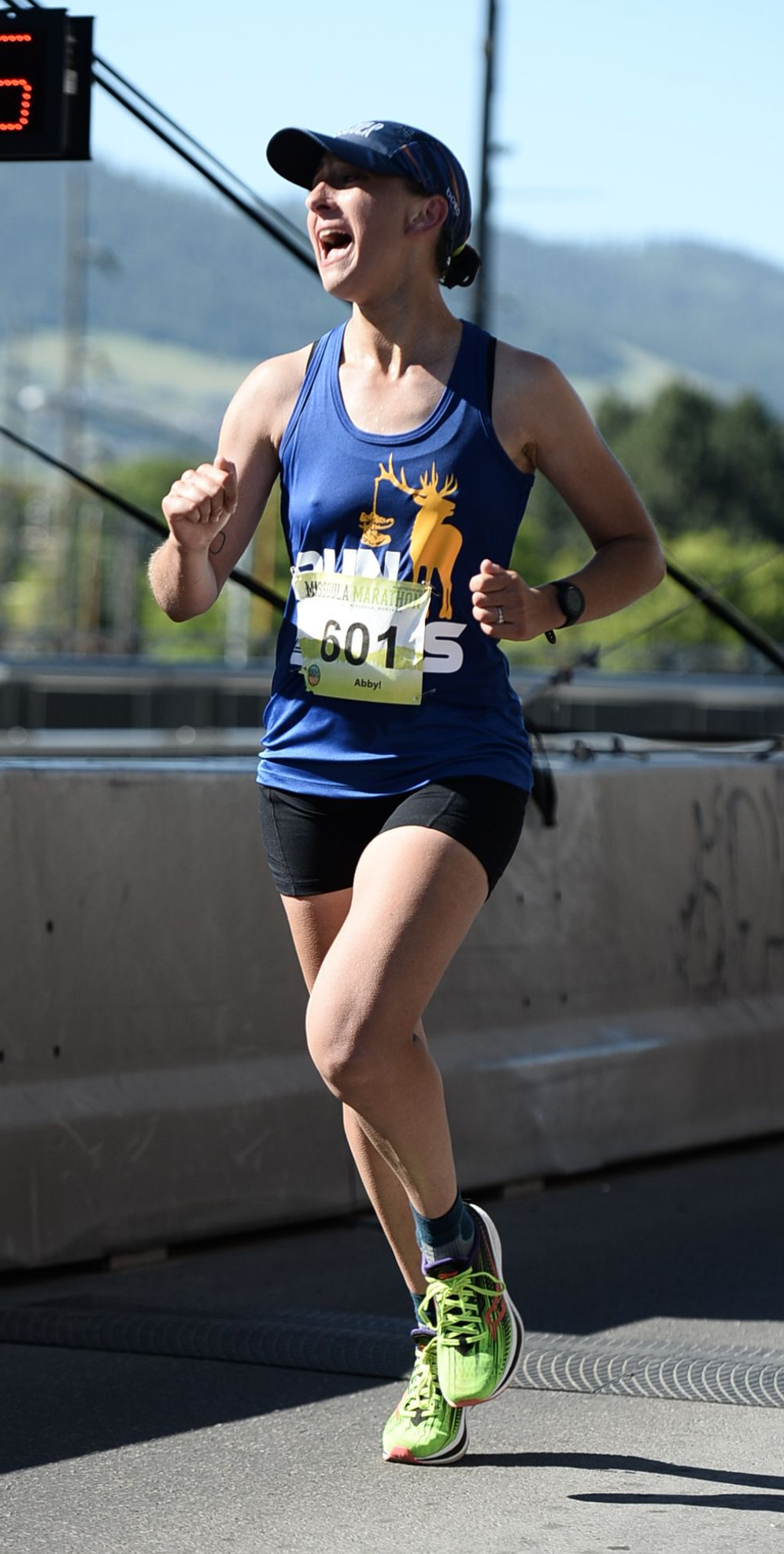 Meet Abby!
Abby is the Missoula Marathon training coach for 2023! Abby grew up in Chappaqua, a small suburb outside of New York City. In 2016, she moved out to Missoula to be closer to her sister and never looked back! Abby ran her first half marathon in 2018 and first marathon in 2019–both in Missoula! Since then, she has completed 10 marathons. Her favorite running terrain is long, flat, open road, but she is occasionally convinced to run on hilly trails. Abby is a graduate of the Missoula Marathon Training Class and couldn't be more excited to lead the class. And on race day you'll find Abby and her sister, Becky, pacing in the 2023 Missoula Marathon.
Abby works as an early intervention special education teacher, which also involves a lot of running around. On the weekends you can find Abby eating, cuddling with her cat, or adventuring with her partner.
Rapid Fire Questions:

Q:Do you have a favorite personal running story to share?
I don't have a favorite running story, but my favorite runs are with my sister. She's the best training partner ever. 
Q: What got you into running?
I credit my friend Levi with how I got into running. He convinced me to sign up for the Missoula Half Marathon in 2018. I didn't train and I held myself to low expectations. But then I had a LOT of fun watching my body do something I thought was nearly impossible. I immediately signed up for the Missoula Marathon. This time I trained and had MORE fun. So I kept signing up and training for marathons, falling more and more in love with that distance. I love that people use the word "marathon" to describe something long or arduous… because it is!  
Q: Favorite animal?
I am a dog person with a strong appreciation for cats.
Q: What is the longest you have run? 
Q:What is the best piece of advice that you have ever received? 
"Give yourself a chance" from Keira D'Amato via Braelynne Shell
Q:What is your favorite food? 
Q: If you could go anywhere, where is it?
There are very few places I don't want to go! My partner and I are planning to visit New Zealand on our honeymoon. 
Q: What is your favorite quote? 
"And I said to my body. Softly. 'I want to be your friend.' It took a long breath. And replied 'I have been waiting my whole life for this."
Q: What's your media- movies or books?
Movies, if I can stay awake for them.
Q: Favorite race you have ever ran? 
Q: What is your go-to snack?
Melted cheese on anything!