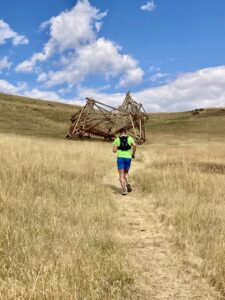 Let's face it, western Montana is full of amazing singletrack that could keep your trail running bucket list full for several lifetimes. You may not expect to find amazing trails in the eastern half of our state. We are here to correct that misconception. Not only are there outstanding opportunities to stretch your legs, there are also extensive vistas, wildlife, and perhaps the bougiest trail run you are likely to ever experience. 
In the foothills of the Beartooths, southwest of Billings, near a town called Fishtrap lies Tippet Rise Art Center. Tippet Rise is "set on a 12,500-acre working sheep and cattle ranch" and "hosts classical chamber music and recitals and exhibits large-scale, outdoor sculptures."  The art center boasts nearly 15 miles of beautiful single track which can be linked in a way to create a nearly 20 mile loop trail run.
Last August, we left Missoula on a Thursday evening and made it as far east as a fishing access site just past Big Timber, where we pitched our tent just feet away from the Yellowstone River. The next day with pink on the morning horizon we packed up and drove the final hour to Tippet. Reservations to walk, run, or bike the center's trails are free, but must be obtained by lottery in the spring. 
Most visitors walk or bike the trails, often with the aid of the center's shuttle vans, but the check-in staff, though slightly surprised, didn't seem all too phased by our plan to run, complimented our running packs, and confirmed that the route we planned to cover was a good one. Our approximately 20 mile route would allow us to visit almost all of the sculpture installations spread across the art center's grassy plateaus with views of the Beartooths.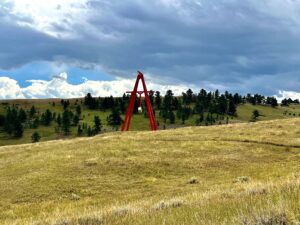 One may be lulled into a sense that an eastern Montana trail run in August would be flat, hot, and maybe even include an encounter with a rattlesnake. Well, we didn't see any rattlesnakes, but they undoubtedly inhabit the art center. We ran through a cool morning complete with rain showers, a hail storm or two, and a stiff breeze. As the miles passed, the clouds parted and we were graced with a beautiful and hot afternoon. We carried our normal hydration packs but one bonus of Tippet Rise is that at many of the sculptures and nearly every intersection in the trail system, art center staff provide five gallon coolers of ice cold water! And flat, forget about it. Our Garmins recorded nearly 2,500 feet of elevation gain over our route. Not close to flat, but all runnable miles. 
The trails are buttery – well graded, scenic, and smooth. The sculptures were no more than three miles apart and always situated to accentuate the larger landscape. One of our favorites was Ensamble Studio's Beartooth Portal. The approach was a sinuous trail on the edge of a draw whose bottom contained lichen encrusted cliffs. Each curve of the trail drew your eye to the horizon line where the gray hulk of the sculpture sat with the Beartooth Mountains undulating beyond. We had decided we would have a snack when we reached Beartooth Portal and our arrival was well timed to be just seconds before the arrival of the first wave of hail. We sat under the sweep of the sculpture and watched the weather move towards and over us from the mountains. The sculpture was simultaneously art and shelter, and felt a natural part of the landscape.

Contrast the natural feel of Beartooth Portal to the stark, bright red sculpture Proverb, one of several at Tippet created by Mark di Suvero. Located at the bottom of a small draw from the center's highest point, and as far from the check-in as you can get, Proverb remains hidden until you are nearly on top of it. As you descend into the draw brief glimpses give little hint of Proverb's true size. It is gargantuan and while it stands out on the landscape, it also looks right at home. Unlike the other creations of di Suvero at the art center, which were created with unpainted metal, the candy apple red of Proverb is a delightful contrast to the landscape. When sitting beneath, the sculpture appeared to move even though there was no breeze.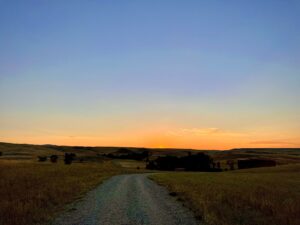 In addition to sculptures, we enjoyed wildlife throughout our miles, and Tippet's delights are hardly all trailside. At the end of our run we freshened up at the car and returned to the open air dining area, where a local eatery serves up incredible dinner cuisine (there are boxed sandwiches and salads available at lunchtime). That evening, cioppino and pork with a mango chutney were two of the options. We enjoyed exceptional craft beers from a Billings brewery along with our food and looked across undulating grasses to one of the few sculptures we didn't run past, Ai Weiwei's Iron Tree.
And lest we neglect one of the mentions in our headline – string music. From late August on Tippet Rise hosts internationally known classical musicians for live performances. We had the opportunity to stay and listen to violin, cello, and piano live in the center's Music Barn. This was all part of what made this run the bougiest of our year. It also made it absolutely worth traveling four hours from Missoula. 
So, make sure to put a trail run at Tippet Rise Art Center on your bucket list. The lottery for tickets, both for trail access and music performances, happens in early spring. Let us know if you get a reservation, we'd like to carpool.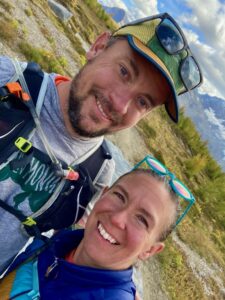 Zach Angstead and Erin Clark are Run Wild Missoula members and avid seekers of wild and unique trails. Their visit to Tippet Rise now has them seeking out Mark di Suvero sculptures around the country.