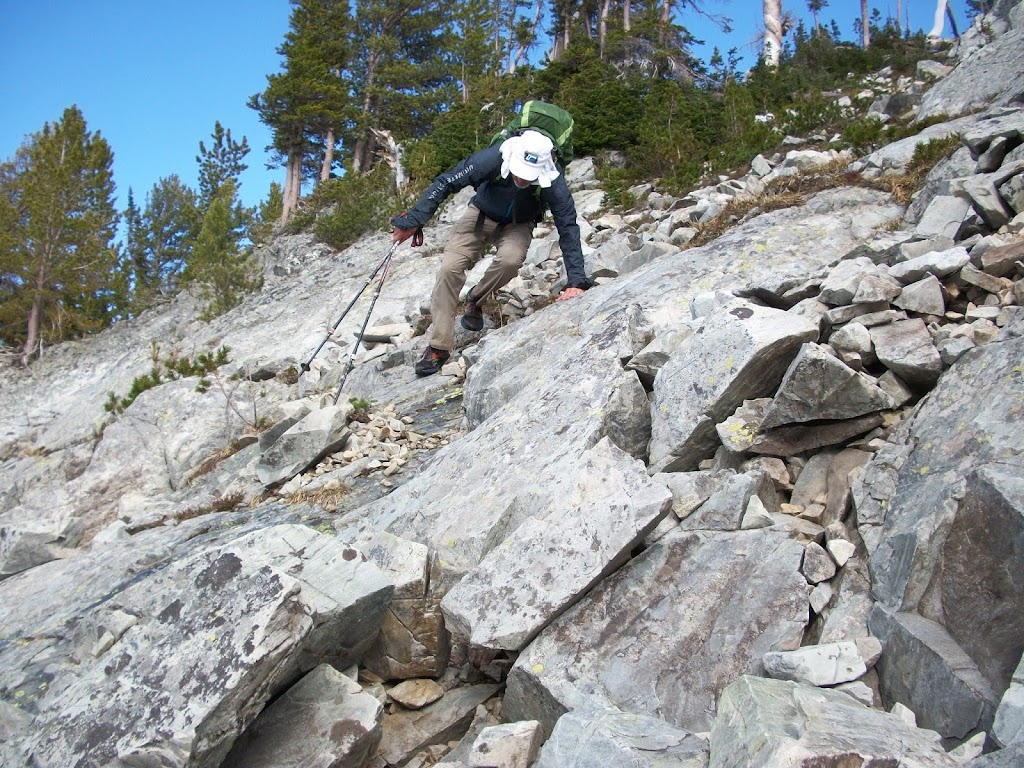 Summer on the CDT Part 4: Bannock to Chief Joseph
by Tim Mosbacher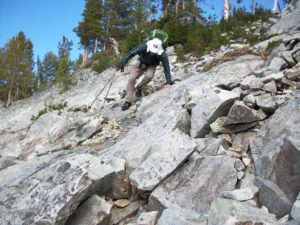 I left off last time where we were drying our gear on top of Bannock Pass, waiting for our resupply. We waited for around three hours, had no cell service, and our fear had come true. We had possibly confused Becky Riley about our resupply destination. We figured we needed to hike to the closest town of Leadore, ID, which was 17 miles away. Five miles into our hike down the road, we were fortunate to encounter an Idaho biologist who was studying the nearby stream for a beaver reintroduction project. We hopped into the back of his pickup and rode the remaining 12 miles.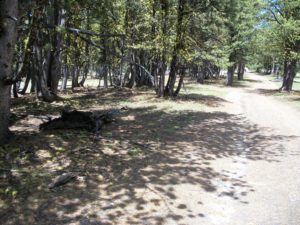 Beautiful Trail/Road between Bannock Pass and Lemhi Pass
Ken was able to get hold of Becky. She was hiking to find us between Bannock and Lemhi Pass, 27 miles from where we had just left. Ken told her to go back to Lemhi Pass and then got hold of her parents who had dropped her off and had driven to Bannock Pass to see if we were there. While all of this was going on, I purchased a Mountain Dew and candy bars from the store and we ordered chicken fried steak at the local restaurant. Just as we finished eating, Becky's parents drove up.
Wooden Fence between Bannock Pass and Lemhi Pass

We rode to Lemhi Pass and waited for Becky to return. While waiting, Ken and I quickly resupplied our packs with new clothes and food. The resupply included a tarp for Ken, so we would not have to sleep under one tarp anymore. Becky's parents drove us back to Bannock Pass. This may not sound super stressful, but it was an ordeal.
Once we left Becky and her parents, we hiked in about two miles and stopped. We needed to decompress from the day. Even though we hadn't hiked very far, the day's constant worry was almost worse than hiking a huge day. The next day we started strong. The trail here was awesome and is the beginning of the Beaverhead 100k course. We saw more elk, and as was typical of the hike, it was nearly always five bull elk. The trail was the best we had encountered so far and had many unique features. For a while there was even a wooden fence like you would find back East.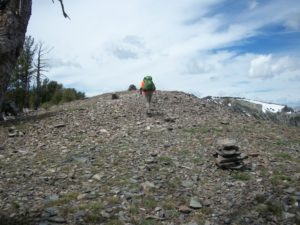 Ridgeline section of the Beaverhead 100K course
Nearly every day we were able to get cell service at some time. As we were hiking along a ridge at 9400 feet, Ken was able to get cell service to verify his bank account had received his first social security check. Not a bad deal. J The trail had gone dry and fortunately we were able to melt snow for water. Not sure how people who do the CDT trail later in the summer handle some of these sections. We put in 27 miles on this daily section and set up camp at Lemhi Pass. We had just been there resupplying the day before. This spot is where the start of the Beaverhead 50k is located. Cannot imagine camping and having the race being there at the same time. It was dry during the night but started to rain as we tore down camp.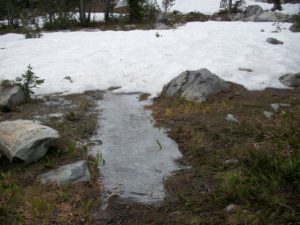 A cold July trail
We had hiked for about four miles, once again on great trails. We were discussing how we had not seen a soul on the trail and how isolated we were since seeing a bicyclist 95 miles earlier. Within two minutes of saying this, two runners passed us, then two more, and then we caught up with some walkers. They, as a group, were running part of the race course. So much for isolation.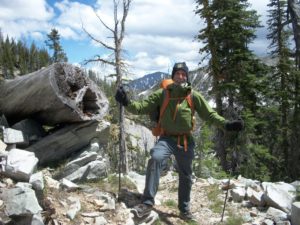 Ken in his element
We veered off the Beaverhead race course a few miles before the 51.5 mile Jahnke Lake aid station. We dropped down from the 9800-foot ridge, traversed across a different ridge, and then had a harrowing climb up to a saddle. Despite the difficulty with water, snow, and ice, it was nothing compared to what lay ahead. We got to the saddle and looked down. There was a 700-foot snow-covered drop off. We discussed our options, with one of them being to turn around and drop down into Salmon, ID. After a lengthy discussion, Ken felt we could get to a rock about 50 yards down. After that who knew. The snow was really slick, and a wrong move or slip would have meant disaster. We made it to the rock and planned our next move.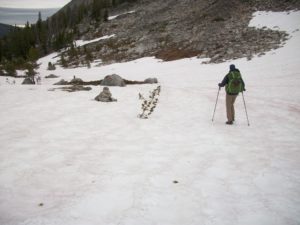 Bottom of the snow chute
This course of action continued for about half an hour before we could finally start to pick our way easier down the slope. The trail was marked by spray painted rocks sticking out of the snow. We camped that night on a ledge right below Jahnke Lake. It got below 32 degrees that night, which made it tough sleeping under a tarp. A tent would have held in some warmth. In the morning, the trail was covered in ice. In the first hour of hiking we had to cross a stream, and I slipped on the ice-covered rocks and fell in. It made for a cold morning.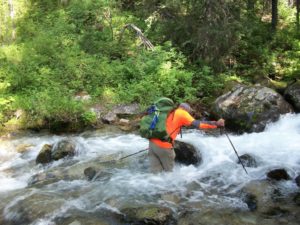 Streams can be tough in the spring
The trail got a little easier and we started to move pretty well, except we were not seeing any CDT markers. We were not worried because it seemed everything was lining up with our maps. We then spotted an old CDT marker and felt relieved. Suddenly, though, about one minute later we were in a swamp clearing with no path. We entered the woods on the edge of the clearing, thinking the trail maybe was there. Nope. Ken turned on his blue dot app which said the trail was about 3/4 of a mile ahead of us. Much to our chagrin, it took us probably an hour to cover that short distance due to downfall everywhere. Getting lost was not fun.
We ended up getting lost the next day also. All of a sudden the trail disappeared and Ken once again used the blue dot app. We somehow figured it was easier to go straight up this ridge and over to meet up with the trail. Tough work.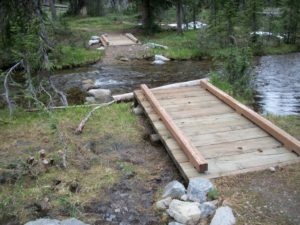 Interesting bridge idea
The days were harsh, with lots of ups and downs on steep ridges. Our last morning before a resupply at Chief Joseph Pass had us scheduled to do only 22 miles. We had pushed hard the preceding days to make it easier the last day. It was not to be. The morning started off very cold, and the first few miles of trail was a stream. There was nowhere to hike but up the shallow water. That was some cold hiking. So we hit what we thought would be relief. On our map it showed a road, but ended up being motorcycle trails. These trails went straight up to every mountain top in the area. Straight down, straight up.
We hit the parking lot of the Chief Joseph X-country ski trails and were excited we had made it. I called my wife and said we were there. She said she was there. Ugh, I had put in our car the wrong parking lot and had no idea where she was. Luckily Ken's son showed up and they drove a little ways down the hill and there she was. I was a half mile off, but without knowing that, it felt the same as 100 miles.
We stayed at the Lost Trail Hot Springs Lodge. It was comfortable and had a shower. Time once again went fast. It was the Fourth of July and there were no fireworks and a clear sky. It was heaven.