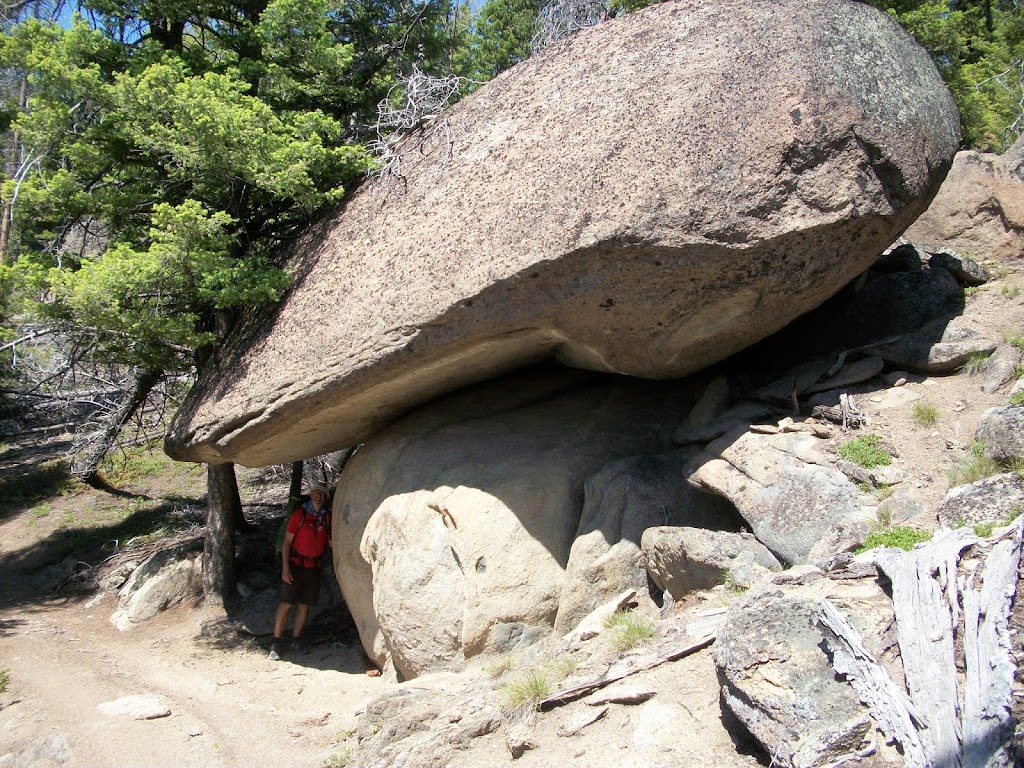 Summer on the CDT Part 5: Chief Joseph to Butte
By Tim Mosbacher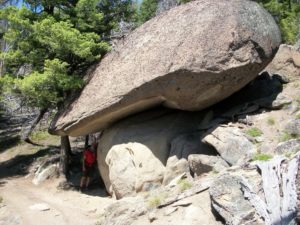 Big rocks on the CDT
We woke early from our stay at the hot springs. It was getting harder to leave on the mornings after a resupply. One would think we would be rested up, but it seemed like everything was always rushed. Becky Riley was going to join us for the first miles of the day at Chief Joseph Pass. I had never been cross country skiing at the pass, so I was interested to see the area, although without snow. Of course since it is all cut out, the trail was great and it was easy to make time. After a few miles of hiking, we had completed our 375th mile in 16 days. It felt like we were finally making progress, as we had spent many of those miles in Idaho and were now heading north through Montana.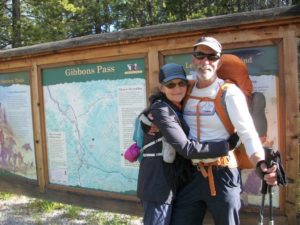 Becky and Ken on Gibbons Pass
After a few miles we crossed Gibbons Pass and further into the Anaconda Mountain Range. After lunch, Becky turned around and almost immediately we hit a recent forest fire burn area. Crossing recent burns are always difficult due to the number of downed snags over the trail, the difficulty in finding the trail at times, and the increased exposure to the sun. If a fire has burned really hot, usually the trail will have disappeared, along with potential areas to get water. On this day, we did not have a water source until 18 miles in.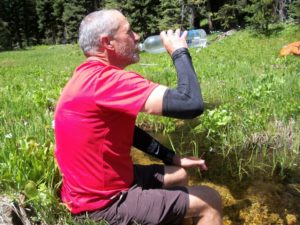 Tim hydrating after 18 miles without water
We were both dragging by the time we hit water. It was so refreshing we did not want to leave. We hiked for 6.5 more miles before we set up camp. It was beautiful, but the location had what every camp in the Anaconda Range had that we had not had prior to this time, mosquitoes. In a bivy, the mosquito netting is about an inch from the face, and the noise of mosquitoes flitting so close was beyond irritating. Usually about half an hour past sundown it would get cold and they would leave us alone.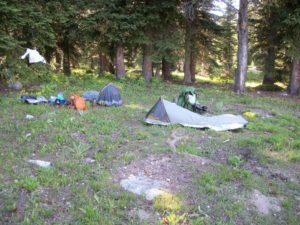 Bivy in the Anaconda Mountain Range
At camp before we slept, I admitted to Ken that I had really struggled that day mentally and physically. It definitely was the lowest I had felt, even though the night before had been easy. Mentally it was hard to go all day, every day. My blistered foot, nicknamed by Ken the "showstopper," was starting to hurt constantly. Downhills were extremely uncomfortable. My air pad had also gotten a hole in it and I had to wake a few times during the night to put more air into it. Ken repeatedly egged me on to think about quitting. On the second day we officially entered the Anaconda Pintler Wilderness near the headwaters of Hell Roaring Creek. Near the edge of the Wilderness, we hiked past Surprise Lake and startled one of the largest elk I have seen.
The going was tough, as much of the area had been burned. Crawling over and under logs became the norm. It was summer now and starting to warm up. When it is cold and raining you complain, but most of the time it doesn't zap your strength like heat. We made about 24 miles the second day and camped at Johnson Lake. The mosquitoes were even thicker than they had been the night before.
Above Rainbow Lake
The next morning we crossed a pass just south of Warren Peak at Rainbow Lake. On our way down we came across the first "hiker" of the trip, about 150 miles since we had seen the runners on the Beaverhead course. The day was easier, as we had shade from the mountains and plenty of water. We hit Cutaway Pass by midafternoon and enjoyed a phone call home. This area was rugged but beautiful. Crossing the Queener Basin we hiked up to an incredible plain on a ridge just south of Rainbow Mountain. It seemed like we should have just been able to stay on the ridge and get to Goat Flat above Upper Seymour Lake, but the trail rapidly descended into snow. We then proceeded to Page Lake where we spent the night. Fortunately there were fewer mosquitoes, replaced by loud little bees.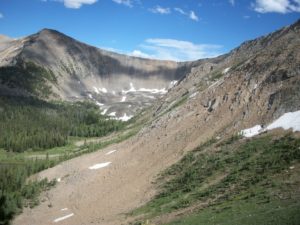 Ridge above the valley of Flower and Page Lakes
I was excited for the next day as I had hiked Goat Flat before. It felt good be somewhere familiar. It was a steep hike up on a cool morning, and the Flat was beautiful as always. The trek down to Seymour Lake was one of the most treacherous of the hike. The trail was covered in snow at a steep angle. We had no choice but to make the best of it. After about nine miles, Lisa Weinreich came hiking up the trail. She had mentioned camping at Upper Seymour Lake, but when we didn't see her there, we thought maybe she had other plans.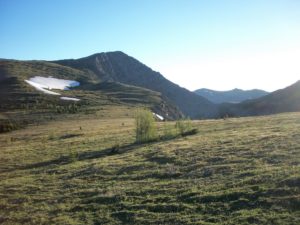 Goat Flat
It was cool to see someone on the trail. We kept going at a good clip, and Lisa said she would hike down the trail/road with us. As we hiked out of Seymour Creek and onto Seymour Creek Road, we heard a vehicle quickly approaching. We got off to the side of the road and saw Forrest Boughner's Alpine Running Guide van being driven by someone we did not know. It sped on past without stopping. After a few miles, we ate lunch and Lisa turned around to head back to her car and home.
We kept going at a pretty steady pace.
We were on an 18-mile road section which killed my foot.
I had a pretty tough time keeping up with Ken.
We got water when we hit Highway 569 but had to use our Aquamira for the second time in over 470 miles due to the number of cattle upstream.
After a few miles up the highway, we turned up American Creek, which seemed to be an area where four wheelers and motorcyclists like to ride.
There were a number of old mining towns on the route.
After over 33 miles, we called it a day.
I was exhausted, and my foot was really hurting.
We camped right below the Hungry Hill Mine. We explored the area some, mainly because we had lost the trail on the ridge. By looking at our maps it was pretty obvious in the morning we just had to hike up to the mine and then get on an old road. In the morning we set out quickly, as we were to be picked up for resupply at the Feely exchange on I15, 21 miles away. Luckily most of the day was on old roads through old mining communities.
The turn up American Creek at the Mule Ranch Vista Area
We ate lunch where we came upon the first water we had seen in over 16 miles. Soon afterward we were able to get onto a pretty good size trail, and I was able to call my son in Seattle for the first time on the trip. The area turned from high forest to rocky landscape similar to that on top of Homestake Pass. It was really beautiful and unlike anything we had hiked through before. We exited these hills and only a quick three-mile high grade road hike to the Feely exchange where the minute we got there my wife Becky pulled up, quickly followed by Ken's Becky. I had been thinking of McDonalds all day, so we went to the McDonalds in Rocker and then on to Butte to spend the night.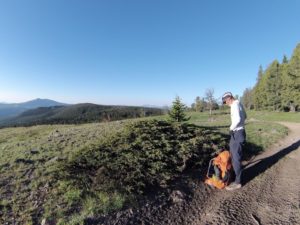 Ken on the roads on the way to Feely
Our plan the next morning was to run the 35-mile section of Feely to Homestake Pass. We decided to do it in reverse. Early the next morning we headed off from Homestake Pass. Immediately we were in awe of how beautiful the beginning of this section was. From Homestake to Pipestone, the trail is an incredible buffed out trail, for bikers and foot traffic. It is the course of the Wolfman 14k held every June. I highly recommend this trail if one is looking for a cool trail to run.
When we got to Pipestone, I started to eat what I had brought for food and really struggled getting it down. I normally love Taco Bell burritos, but eating them cold on this run was just not working. On top of that, the water sources were dry and I was not able to get water where I had planned. Needless to say, I started to struggle early. Ken was strong as ever and I could barely keep up. Then our plans crashed. Becky Riley was to meet us coming up this high grade road named Highland Road. The intersection where the Continental Divide Trail intersected with the road was not marked, and we were concerned she might have passed the road. It got later in the afternoon, and still no sign of Becky.
In the meantime, it got hot and I ran out of water. We had no cell service and Ken was worrying. After a bit I was able to get cell service and called my wife in Butte to pick us up early. I was dying, literally and figuratively. We still were not able to get hold of Becky Riley, but my wife was on the way. In the distance saw my Becky drive past the turn to the road we were on (crazy intersection, not marked and covered in bushes). Luckily we were able to call her and direct her to our location. Just when she got to us, Ken was able to contact his Becky and learned she was way up Highland Road.
Fortunately everything worked out, and we made our way back to Butte. We ended up three miles short of the 35 but that would be easy to make up in the future. The four of us ate dinner at the Hanging Five restaurant, then Ken and I packed and got ready for the next section to McDonald Pass. In the morning I was waiting outside of the hotel for Ken to pick me up. He never came. He called instead.
It had been a hard 500 miles. Neither of us had previously done anything like it. It was so different from going backpacking a few miles and hanging out. There was no hanging out. We had to move to cover the miles. There was little time to "stop and smell the roses." We ended the hike in Butte that morning. 500 miles was a long way, but not the 1000 we thought we were going to do. Fortunately, we did learn some lessons, and we picked up where we left off two years later. More to come!