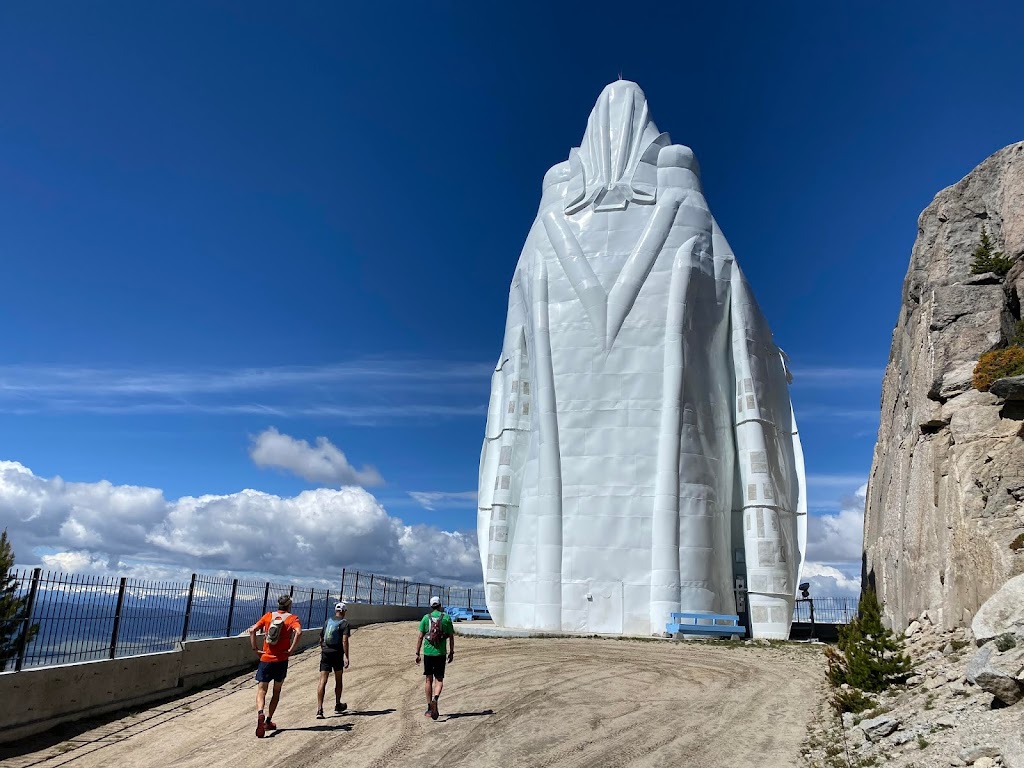 Summer(s) on the CDT Part 6: Homestake to Blossburg
By Tim Mosbacher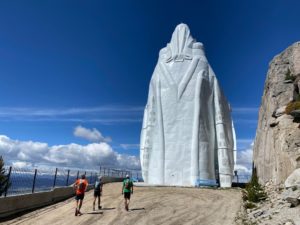 Our Lady of the Rockies above Butte
In the spring of 2020, two years after we left the CDT trail, Ken Ellis sent a message saying he was interested in finishing up the hike. I was excited, knowing that Ken had got his second wind. Immediately we started planning for the section we had left, Homestake Pass to the Canadian border. Since much of this section is relatively close to Missoula, Ken had arranged various people to meet us or participate in doing some of the smaller chunks.
The first question that came to our minds, and to others who were interested, was "what would you do differently?" on the second go. Ken decided to ditch the bivy and tarp, going with a tent, as well as a warmer sleeping bag. I had sometimes been jealous of Ken because he was so comfortable in his Crocs. I decided to follow suit, and the only thing I decided to change was to bring a pair of sandals to wear at camp instead of going barefoot.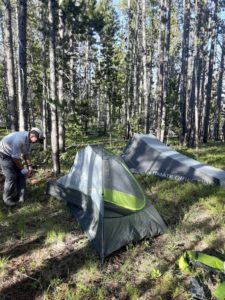 Setting up camp
In the middle of June we set out to complete the 32-mile section from Homestake Pass to Elk Park. Thinking that running this section with some our running buddies and organizing a vehicle shuttle would make the rest of the trip easier, Ken arranged for a group of people to join us. So on a beautiful June morning, Kevin Twidwell, Brian Fruit, Justin Grigg, Dean McGovern, Katie Gibson, Ken and I embarked on the rest of the CDT.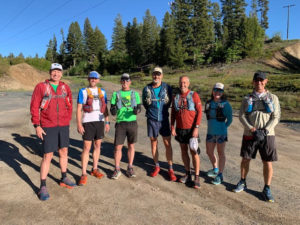 The Homestake to Elk Park Crew
Kevin's parents saw us off on top of the divide. It is so different doing something with a group of people compared to being alone for days on end. We made good time for the first couple of miles. Butte had had a horrible windstorm just days prior, and the trail had not yet been cleared. We were really slowed down in the sections of blowdown.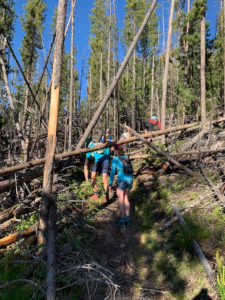 Slow going
Overall the day went smooth and many of us got to visit Our Lady of the Rockies for the first time, as it was only about a half mile off the trail. We ate lunch there and enjoyed the view of Butte and the Pit. The blowdown continued for much of the run, and on the downhill into Elk Park we ran into some mountain bikers who were using saws to clear out the trail from that end.
A few days later Ken and I started the hiking part for real. As we drove back to Elk Park, we detoured to run the few miles that we had completed when we had called for an early ride near Feely. Once that was out of the way, we gorged ourselves at the Hanging Five Restaurant in Butte and then started out hiking at Elk Park. Becky Riley joined us for the first few miles.
This section was to be over 126 miles long and would conclude at either Flesher Pass north of Lincoln or, if we made good progress, just a dozen or so miles past Flesher Pass at Rogers Pass. Since we had started in the afternoon, we had planned for resupply after five and half days. For some reason both of our packs rode a little heavy at the start. This section was expected to have some areas where we would have to go a number of miles without water, and we needed to fill up whenever we had a chance. Our first opportunity was a spring coming out of the ground right in the middle of the trail.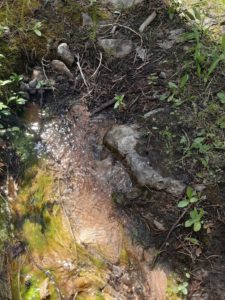 A spring flowing from the trail
We went ten miles the first day and set up camp. It was on a beautiful ridge with few mosquitoes. Ken set up his tent for the first time, and I set up my bivy and tarp. I am sure Ken wished he was back in the bivy, but he would not admit it.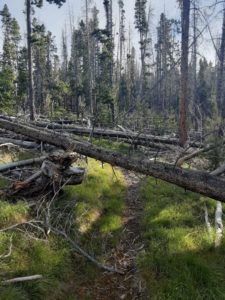 Looks not deceiving. Tough trail.
The next day we had only gone about six miles before we hit crazy blowdown. It was the worst we had encountered on the trip. We were crawling over, under and through trees for miles. Not only did it slow us down, but it just wore us out. It was like doing lunges all day while carrying a weight. Not only was the blowdown tough, but the day started to get warm. Right as we got low on water, we were fortunate enough to hit a spring-fed cattle trough not too far off the trail. It was excellent to be able to drink such cold water and to refill our supply. That day we were only able to hike a little over 19 miles. Forest Boughner had stated this section was some of the easiest trail in Montana, but with all of the deadfall, it was a struggle for us.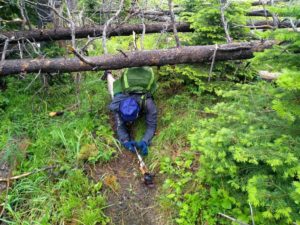 Crawling
That night I wished I had a tent. We were on a ridge overlooking Deer Lodge which was beautiful, but there were a ton of mosquitoes, and it was still little warm out. Ken was able to do without his rain fly, which allowed a breeze, but I was roasting under my tarp and in my bivy. And, the mosquitoes were hovering right above my face. Finally in a near panic attack, I had to jump out and cool off by running around, trying to keep the mosquitoes off me. That night, it was so clear, it seemed like we could see a trillion stars.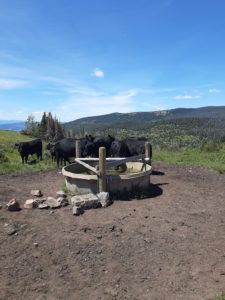 Spring fed cattle troughs make for good water… if you don't mind the company.
The next morning, we thought we would have a quick start because much of the trail seemed to be on an old road. Soon the old road ended and we were lost. The blue dot on the phone said we were on the trail, but we were boulder hopping around a mountain peak. We lost more time. Then, unfortunately, about four miles down the trail we took a wrong turn and had to backtrack about a mile. Things were not going our way, but our spirits were still up.
We ate lunch near Cottonwood Lake and tried to regroup mentally. As we were eating, a hiker passed us, the first person we had seen hiking on the trail. The trail started to get a little confusing as the paper maps differed from the app maps. It seemed the app maps were correct, so we started to rely on them. As we were figuring this out, the surrounding clouds got really dark. We were constantly looking for a camp spot that would seem relatively safe from lightening, but we could not find one. We continued on and once we found a spot, we had only about three minutes before it started pouring rain. I was lucky enough to have gotten the tarp set up before it really started to rain, but Ken was a little slower and not as lucky. We both hoped there were not bears around, as we both kept our packs in our shelters.
The next morning we set out under cloudy skies, damp, but feeling good. We hit more blowdown which slowed the pace, but at times we were able to be on roads where we were able to pick it up. Right before noon the sun came out for about 15 minutes, so we tried as best we could to dry our gear.
Shortly after, we crossed McDonald Pass. The CDT has you hike on the highway for about a mile, which was a little distressing, but more distressing was the air was getting colder and the clouds getting darker. We followed some cross country ski trail roads that led up to some communication towers, and then the clouds opened up with a downpour. We continued to hike, and like much of the day, crossed more downfall, and then hiked through a swampy area. We hit Priest Pass, and longingly looked into a pickup where a man was sleeping through the rain. He was dry; we were soaked to the bone and getting cold. The wind was picking up and the temperature was dropping.
We had been hearing trains for the past hour and remembered we needed to cross the Montana Rail Link line that goes into Helena. We hiked past an old railroad trestle and then came around a corner and could see train tracks to our right. We continued on, but then all of a sudden the tracks were on our left. Unknowingly at the time, we had crossed over the long Blossberg Mullan train tunnel.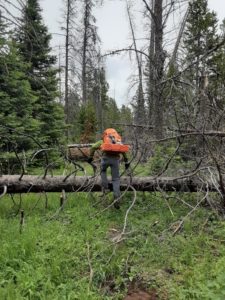 More deadfall between McDonald and Priest Pass
After a mile or so, we both agreed we could not continue. We were freezing to the point where it could be dangerous. We found some big trees for some shelter and set up camp. Crazy enough we had excellent cell service, so I called my wife and told her we needed to be rescued if Ken agreed. The wind and rain was so loud that I could not communicate to Ken, so I had to get out from under my tarp and run to his tent. He was shocked to see me in the rain, but agreed that we were in rough shape. The temperature was falling and he had no dry clothes.
It was going to be dark soon, so I called my wife back and said to come in the morning. It was a wet night with the trees dumping bucket loads of water on top of our shelters. The ground shook all night as the trains went through the tunnel. We were not going to make it to Flesher Pass.
It was tough to make the decision to pull out, but we were lucky that we were close to a road. The forecast for the next few days was low thirties, with possible snow. With no dry clothes, that could be dangerous, so neither of us had regrets. We headed back to Missoula with plans to start at Rogers Pass. We had earlier made plans to hike across the Bob Marshall Wilderness with Steve Brown. We would pick up the two days of Rogers Pass to Blossburg after we headed north of Rogers.