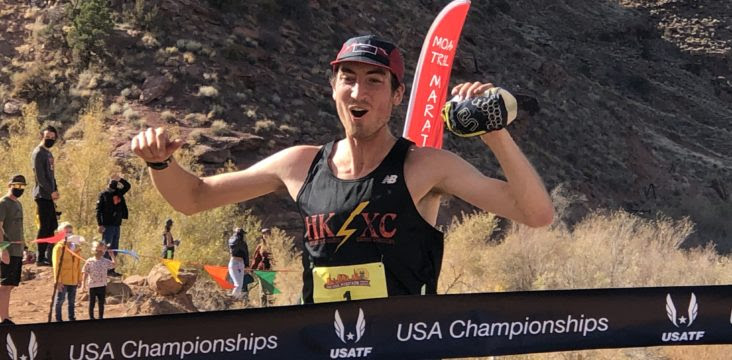 In college, I ran for the University of Colorado in Boulder, which, in the summer and fall, is quite a lot warmer than where I grew up in Montana.  During cross country season, our practices always started at 2 o'clock in the afternoon.  In August and September that meant temps could be in the 90s while we were doing our workouts. 
Going into these hot workouts, I had convinced myself that I was bad at running in the heat.  "I'm from Montana, I'm not used to running when it's hot." "I'm tall, it's harder for me to cool down my body compared to someone shorter."
Flash forward 5 years to 2022, and I won the Western States 100 mile race where the high temperature was 99 degrees.  What did I change?
Lean Into It
 First and foremost, running is a mental game.  To be able to run in the heat, you need to embrace it.  Rather than make up excuses like I did in college, start by telling yourself the opposite.  Things like: "I love the heat." "I'm good at running when it's hot outside" can make a big difference in getting out the door when it's 90 degrees every afternoon.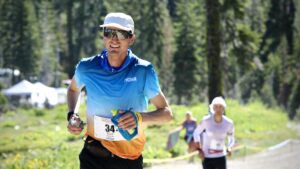 Bring a lot of Water
I find that if I have enough water it's pretty difficult to overheat during a run.  When it's over 80 degrees, I usually drink about 1.5 liters of water every hour. It seems like a lot, but staying hydrated during the run is the key to not over revving your engine.  Make sure to add some electrolytes to your bottles as well.
You may want to consider bringing a small water filter on longer trail runs so you don't have to lug around all your water the entire run.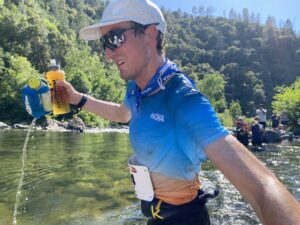 Plan your route to go past a creek
Stopping for even 30 seconds to fully immerse yourself in a creek can make a huge difference in cooling down your body's core temperature.  If the water you're dipping in is too shallow to lay down in, take off your shirt and hat to soak them in the water before you continue on.  Having wet clothing helps a lot when it comes to staying cool.
Run Slower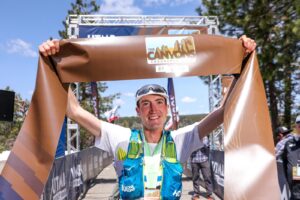 Running in the heat elevates your heart rate, especially when you're climbing.  If you wear a gps watch that shows your pace, it's helpful to just run 30-60 seconds per mile slower than you normally would when it's hot outside.  You'll finish the run feeling much better than if you forced it to hit your normal splits. 
Coca cola for afterwards
 Nothing better! 😉
About the Author:  RWM member Adam Peterman is professional trail runner for Hoka and works for Runner's Edge Events. His decorated accolades include a win at Western State Endurance Run, two gold medals at the 2022 World Mountain and Trail Championships and the Snow Joke half marathon record holder. He also has his own wikipedia page and a cute dog named Poppy.