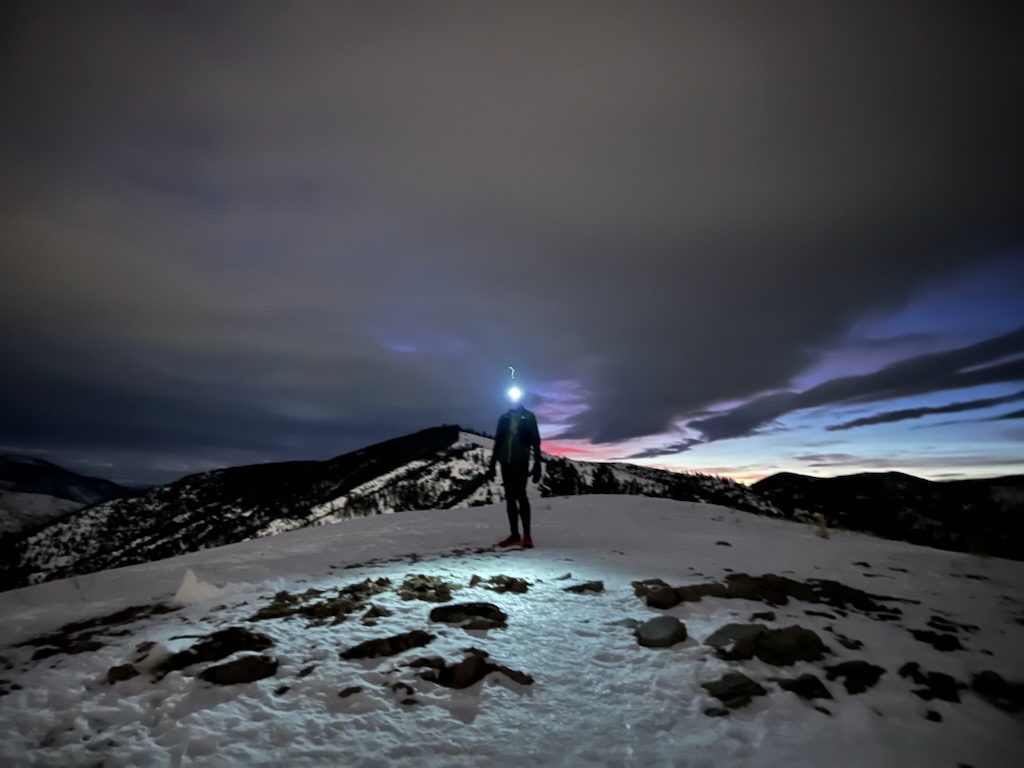 Longer nights, snow and ice can make trail running through winter a bit of a challenge, but it is possible to keep logging miles off road. Here are a handful of tips from Run Wild Missoula board member Justin Grigg, who has spent the past several years training for winter and early spring ultras in the early morning darkness.
Clothing
For my upper body, I like to layer merino wool shirts with wind-blocking and/or water-repellent jackets. I have multiple merino T-shirts and long-sleeve shirts that I'll mix and match depending on the temperature, as well as jackets that are different weights and one with a hood. Merino is warm, soft, breathable and wicking. Softness may vary based on the brand, weight and weave – find what's comfortable for you.
For my legs, I'll wear shorts, three-quarter-length tights or full-length tights, depending on temperature. Looser wind-blocking running pants can be pulled over any of these. On my head and neck, I again go with merino – a couple of different weights of beanies and a balaclava, depending on the temperature. I particularly like the balaclava because it can be worn around only the neck or pulled up over the chin, nose, ears and top of the head as needed.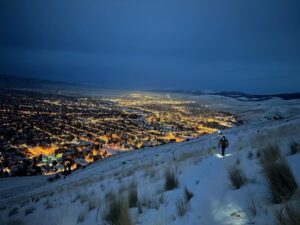 My hands tend to get cold easily, so I again have options that I can layer depending on the temperature, from light gloves to heavier gloves and mittens, as well as Gore-Tex mitten shells. My feet on the, uh, other hand, don't get too cold as long as I don't stand around long, so I usually just go with a pair of crew-length socks. I don't need wool , but that's always an option.
Basically, above 20 degrees, I'll wear a merino shirt, jacket, shorts, light beanie and gloves. Depending on the temperature below 20, I'll wear a couple merino shirts, jacket or hooded jacket, tights, heavier beanie, balaclava, mittens and mitten shells. The takeaway is to have multiple layers to work with depending on how cold you get when you run. You may need more than me or less than me. 
Traction
The only traction I use is the type with larger chains and spikes – Kahtoola and Black Diamond are a couple of brands. I've gotten fairly comfortable on a little ice and find that other types with elastic bands or smaller chains/coils tend to break too easily. It's best to find something that works based on your comfort level on ice.
Lighting
Almost any headlamp will do, but I prefer one with a rechargeable battery pack – and it's always helpful to have an extra battery charged up just in case. For the rare occasion I go on a road run, I also have a headlamp with a rear blinker to help ensure I'm seen.
Where to go
It's easiest to run on trails that get a good amount of foot traffic – the North Hills, Mount Sentinel and Barmeyer are good options. University Ridge to the beacon can be decent, too. They'll be best a day or two after snowfall until they get icy. There's no reason not to run the morning after, but it might be slow going due to the fresh snow. In the Rattlesnake Recreation Area, try Woods Gulch, Three Larch, Sawmill and Curry gulches, or the Wallman loop, especially if they've been packed down by fat bikes. In the main Rattlesnake corridor, do your best to stay to avoid running in the groomed ski tracks. Blue Mountain Recreation Area is another option, although I don't get out there much.
About the Author: Justin Grigg is a Run Wild Missoula board member who has trained through the winter for the Moab Red Hot 55K and Running Up For Air 12-hour event in February and the Behind the Rocks 50-mile race in March. He can also be found training for ultras on trails around Missoula in warmer months and, occasionally, at RWM's Saturday breakfast run, beer runs and track practices.