Run Wild Missoula
Hot Walk Missoula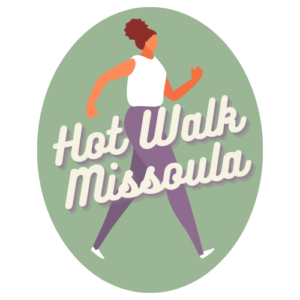 Want to participate in a Run Missoula event but running itself isn't quite your jam? Join Run Wild Missoula's Back Of The Pack (BOP) in our new program – Hot Walk Missoula! Modeled after the "Hot Girl Walks" of internet fame, Hot Walk Missoula aims to get anyone and everyone looking to add more movement and friends into their lives out and walking. 
What's a "Hot Walk," you ask? It's not just a walk – it's a stroll of gratitude, goals, and good vibes!
Join us for a leisurely amble where you can:
What you're grateful for;

What your goals are;

How you're going to achieve them!
Let your thoughts flow freely, and your feet will follow suit! Whether your conversation stays on track or takes a detour, every step is a stride towards positivity.
The "hot" in "Hot Walk Missoula" is rooted in building confidence and dedicating time to thinking positively, with intention, about oneself. As long as you show up with no judgment and with a fun vibe, anyone can walk with us!
The abovementioned "Hot Girl Walks" were started as a trend during the Covid-19 Pandemic as a way to deal with the negative impacts of isolation, focusing on gratitude, goals, and confidence. You can learn more about the story behind the "Hot Girl Walk" here. 
As the Hot Walks are more "chill" (we know! It's an oxymoron!) than many other Run Wild programs, we will be welcoming dogs at these events! Your furry friends must remain leashed at all times, and you must pick up after them.
Moving forward, BOP and Run Wild hope that the Hot Walk Missoula will help create a more accessible niche in our roster of programs, and provide a place for anyone and everyone who seeks to make more friends and incorporate more movement into their lives. 
More Info:
Cost: FREE to participate! You don't need to be a Run Wild Missoula member to join in, but hey, we're a welcoming bunch if you're curious! Find out more about our membership program here.
Location: South side of the Van Buren St. Foot Bridge.
Date/Time: Join us for our next meeting at 10:00 AM on Sunday, October 1!
Distance: ~2 miles on mostly flat, paved trails.
No need to register for the walks, just show up with your wonderful self!
Let's strut, stroll, and spread those positive vibes with Hot Walk Missoula — because everyone deserves a chance to shine while they step! See you out there!
For all your questions and a virtual high five, reach out to Sidney, Run Wild Missoula's Programs & Communication Coordinator.
"Those undertaking Hot Girl Walks may benefit from gratitude's virtuous cycle, beginning with exercising both one's mind and personal volition, reducing distraction, and focusing on personal abundance and strengths. The benefits of the Hot Girl Walk may be theoretically unlimited."
-- Dr. Glenn Fox, USC Marshall School of Business